Victor, NY, USA: Effective January 29, 2014.  L-Tron Corporation announces a partnership with a national transportation and logistics company for a pilot program involving the initial rollout of sixteen Dolphin™ 70e Black devices by Honeywell Scanning & Mobility.
L-Tron will be the sole provider of the nationwide rollout, which has begun shipping to six separate locations throughout the United States. The Dolphin devices will be used for data collection and logistical tracking through a customized software solution. If the pilot goes well, more devices will be ordered in a national rollout.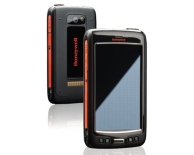 According to the transportation company, L-Tron won the bid with a competitive price, but also by actively listening to the company's needs and suggesting solutions beyond merely sending a quote with price points.
The Dolphin 70e  Black is a hybrid device that combines the modern appearance of a smartphone with the durability of a mobile computer. Pocket-sized and lightweight, with a 4.3" touch display, the Dolphin Black stays charged throughout an entire shift and is viewable in virtually any lighting condition. Designed for an array of mobile enterprise applications, the device runs both Windows and Android™ operating systems and is resilient enough to withstand drops to concrete and submersion in water.