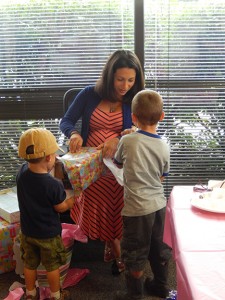 Last week we had a couple of fun events in the office.
First, a baby shower for Carmella, who will soon be welcoming a baby girl to the world!
And right after, some of our team accepted the ALS Ice Bucket Challenge (thanks to our marketing team for nominating them) – see our challenge videos below.
RAD DeRose, President & CEO

Gayle DeRose, COO & Marketing Director

Gayle DeRose (COO) Ice Bucket Challenge
Jeremy Miller (on behalf of the sales team)

Jeremy Ice Bucket Challenge