L- Tron's Light Grenade was featured in the September 2017 edition of LEPN Magazine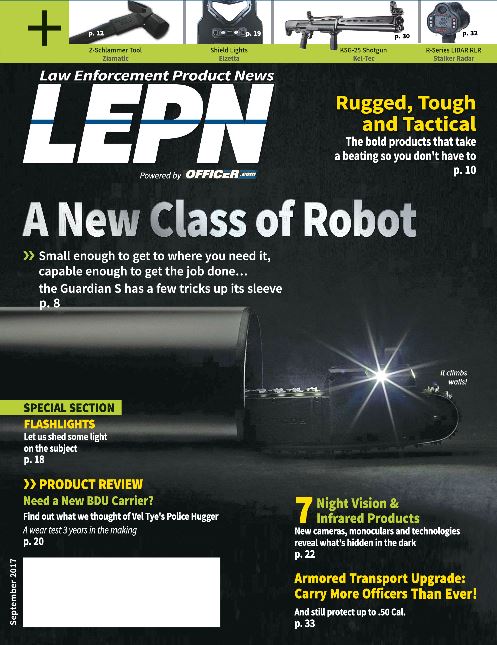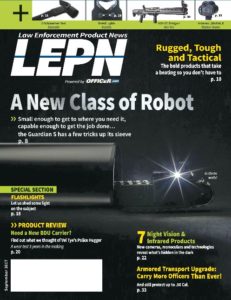 The L-Tron Corporation was excited that the Light Grenade was recently featured in the September edition of LEPN Magazine (Law Enforcement Product News). LEPN's September issue featured several new rugged, tough and tactical products – and the Light Grenade was highlighted as a new "bold product" that could take a beating. The issue also highlighted a special section on flashlights, as well as several Night Vision and Infrared products (the Light Grenade is available in an IR version as well).
Read the digital version of the September Edition of LEPN Magazine here:

About LEPN Magazine – Law Enforcement Product News
Law Enforcement Product News Magazine is considered the most thorough product magazine for law enforcement. The magazine provides updates on the latest technology trends, including new products at tradeshows, new employment opportunities, new platforms and law related websites, upcoming events, trainings and other up-to-date news within the industry. The OSCR360 Solution was featured in the July/August issue – and was called out on the front cover as a new crime scene solution.
The Light Grenade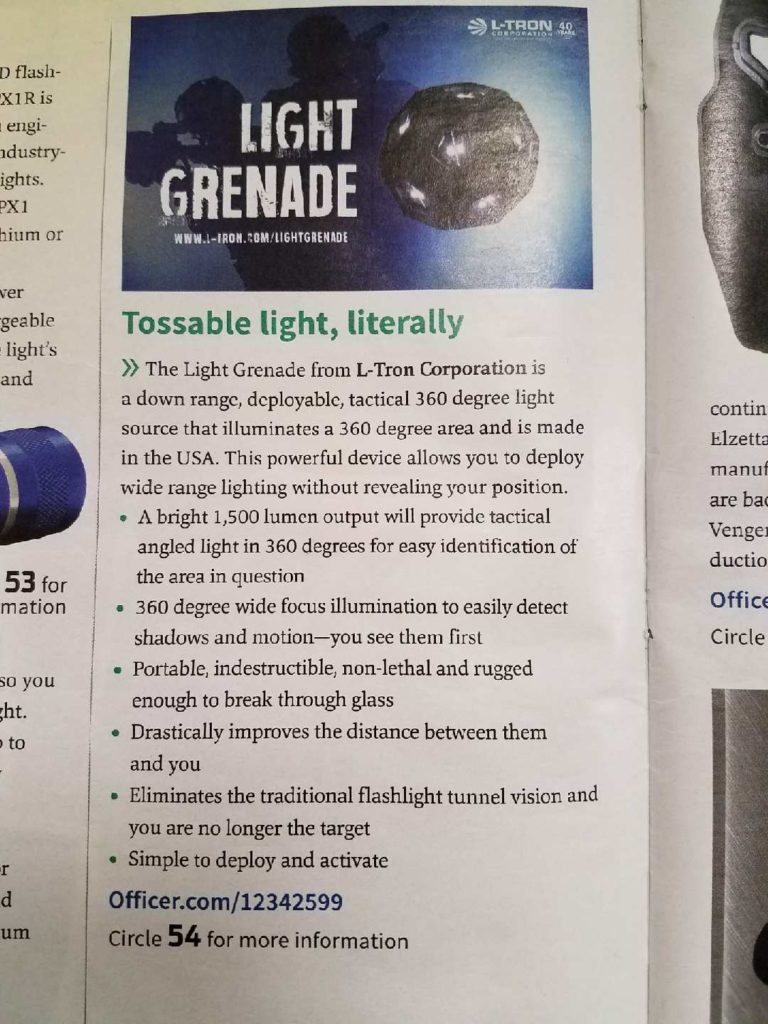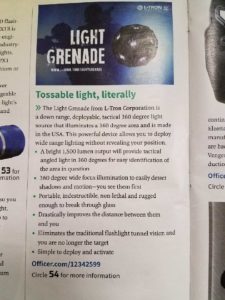 The Light Grenade is a tactical light used by Officers to safely illuminate a dark area during criminal pursuits without giving away their position. The Light Grenade allows you to detect movement and shadows in dark rooms, basements, attacks, staircases and more. It eliminates tunnel vision that is created by traditional tactical flashlights by providing 360 degree illumination in the area of deployment.
The Light Grenade features:
A Bright 1,500 lumen output that provides tactical angled light in 360 degrees for easy identification of an area.
360 degree wide focus illumination to detect shadows and motion.
Portable, non-lethal, and rugged enough to break through glass.
Drastically improves the distance between "them" and you.
Eliminates traditional flashlight tunnel vision.
Simple to deploy and activate.
Available in both white light and IR versions.
Questions? Interested in learning more about the Light Grenade?
Call 800-830-9523 or Email info@L-Tron.com