There are a lot of instances where an Industrial Computer is purchased for one application but then is used for another. All is fine and good with doing so but one must know the PC's capabilities before doing so. Not all software and application requirements are the same, so what works for one application might not work for another. I have compiled a list of variables to consider when making a purchasing decision or looking into utilizing an existing Industrial PC for an alternative project.
These 10 Variables will ensure that you know your PCs capabilities: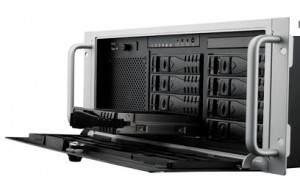 1.     Chassis
Chassis are available in several different form factors. I have listed below a few options available at this time. It will be important to select the appropriate solution based on your mounting requirements and space confinements.
                  a). 1U/2U/4U/5U/6U/7U Rack mount Chassis
                  b). Desktop/Wall mount Chassis
                  c). 1U/2U/4U Server-Grade Chassis
 2.     ATX Motherboard/Passive Backplane & Single Board Computer (SBC)/Server Grade Motherboard/Server Grade Single Board Computer (SBC)
If you only require four or five ISA/PCI/PCIe slots, you can select a motherboard chassis and ATX Industrial Motherboard.

If your application requires a smaller desktop/wall mount chassis, you can configure your system with a 6-slot or 8-slot passive backplane and PICMG 1.0 or PICMG 1.3 single board computer, depending on the type of I/O card you will be using. ISA and PCI slots are found in PICMG 1.0 backplanes, while PCIe slots are prevalent in PICMG 1.3 backplanes.

If you require a rack mount chassis, you can select the appropriate 1U/2U butterfly or 5/6/8/10/14/20-slot passive backplane and single board computer to utilize with it. These systems are also available in PICMG 1.0 & PICMG 1.3 configurations.

Server-Grade Motherboards and Passive Backplane/SBC configurations are also available for high processing power, memory, and storage requirements. These systems are only available in PICMG 1.3 configurations.
3.     Processor (CPU)
Processors currently available range from LGA775 P4 and Core 2 Duo to Atom Single/Dual Core, Corei3/i5/i7, AMD Dual Core & Xeon
4.     Memory (RAM)
Memory ranges from DDR2 to DDR3 with capacity ranges of 1GB to 128GB (server grade). As a rule of thumb, you can use up to 4G with Windows XP Pro SP3 and Windows 7 Pro 32-bit, while you can use up to 8G with Windows 7 Pro 64-bit. Windows Server can accommodate up to 128GB.
5.     Storage (Hard Drive/Solid State Drive)
Most systems will use a standard hard drive. Most are available in sizes of 250G, 500G, 1 TB & 2 TB and more than one can be used if RAID is required. Removable hard drive racks can also be added for hot-swappable capabilities. If severe vibration exists, it's best to use a solid state drive. Sizes start at 32G and the two types available are MLC and SLC (7x as expensive as MLC in some instances).
6.     RAID 0/1/2/3/4/5/6
If RAID is a requirement for your system, it's important to select the appropriate ATX Motherboard, SBC or Server Board that will support software RAID or you will need to configure the system with a RAID card that fits its I/O specifications.
7.     Optical Drive
Most systems do not come configured with an optical drive. If one is required, it's important to make sure the chassis you select has enough drive bays to accommodate one. The only variable left to consider is whether or not it's a CD-ROM or DVDRW (read/write).
8.     Operating System
Select the appropriate operating system for your application and software requirements. At this time, availability continues for Windows XP Pro SP3 & Windows XP Embedded along with Windows CE, Windows 7 Pro 32/64-bit, Windows Embedded Standard 7P, Linux, DOS and Windows Server
9.     I/O (LAN, COM, USB, ISA, PCI, PCI-X, PCIe)
If you will be adding I/O cards, you will want to make sure that you select the appropriate ATX Motherboard, passive backplane/SBC or Server board that not only provides you with a satisfactory amount of I/O slots, but also provides the correct amount of external I/O that you will require.
10.  HMI (VGA, DVI, HDMI) & Resolution
If you know the HMI you will be using with your system, you will want to make sure that the system you configure supports the output and resolution your HMI requires.
The 10 steps provided for determining your Industrial Computer's capabilities can be a bit overbearing. If you find yourself questioning what you really require, feel free to contact me.