OSCR360 Datasheet
OSCR360 Datasheet
Below you will find detailed specs for the OSCR360 Capture Kit and OSCR360 Desktop Software.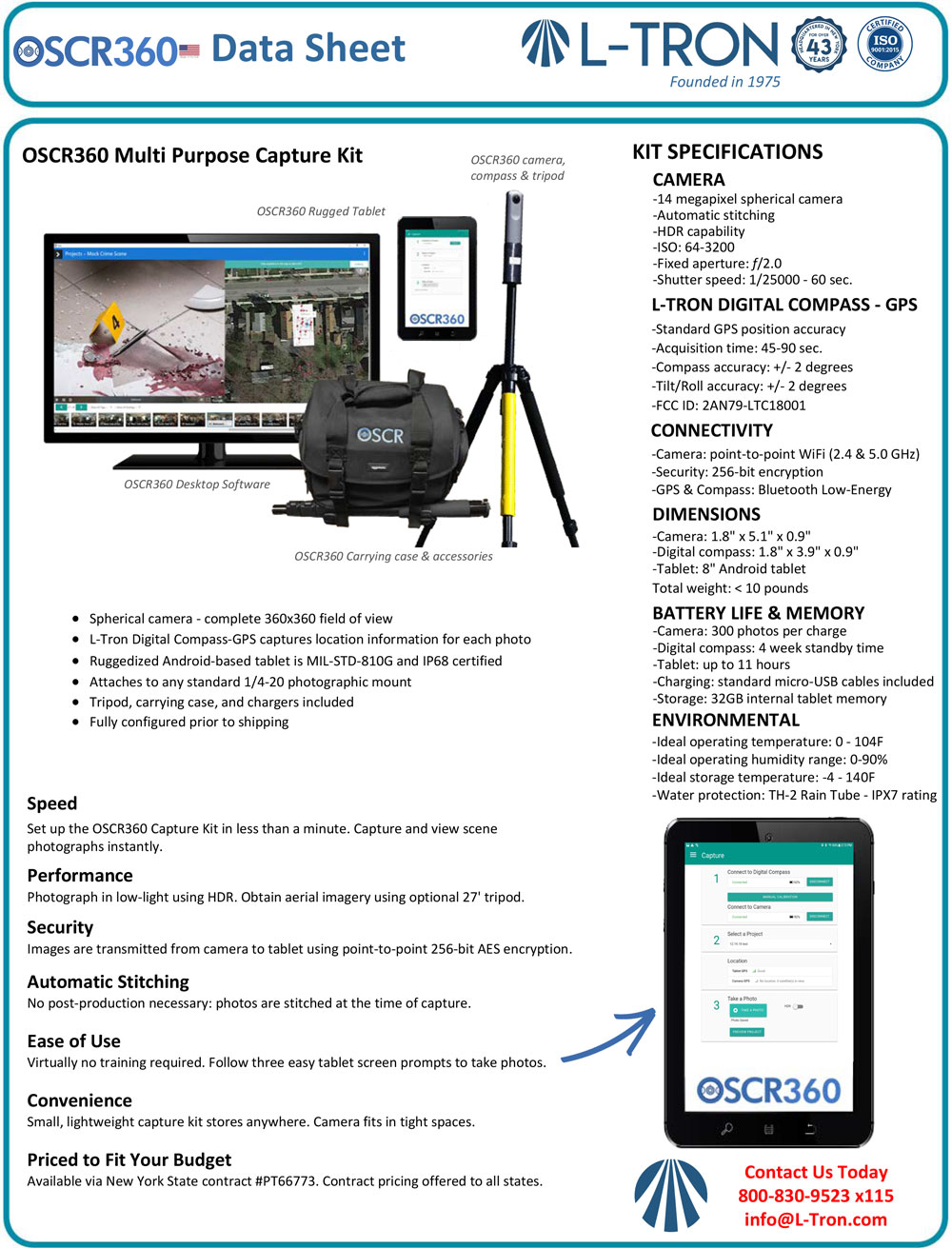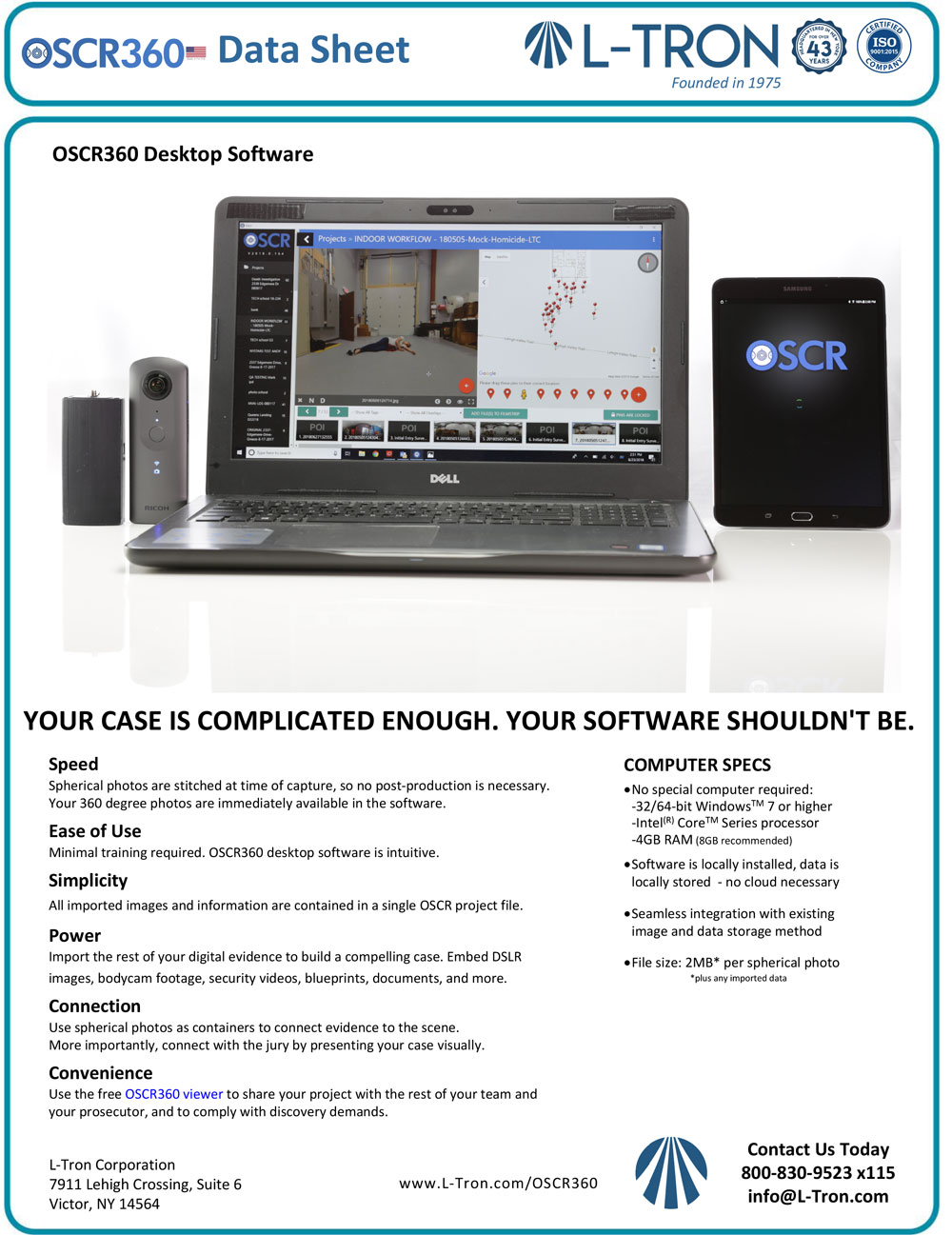 Questions?
Call Julianne 800-830-9523 x115
Email info@L-Tron.com
OSCR360 for Active Shooter Planning and Response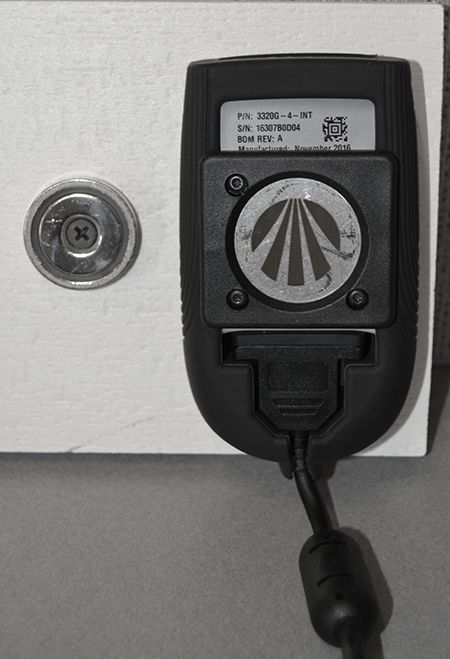 Magnetic Mount for the 4910LR DL Reader
The Magnetic Mount for the 4910LR DL Reader is an add-on enhancement to use in place of your standard mic clip.
The mag mount is:
Easy to install
Easy to use and saves time
Reduces distractions – improves your safety
Purpose built for rugged environments (aka…your patrol vehicle)
4910LR DL Reader Magnetic Mount Datasheet
4910LR DL Reader Magnetic Mount Datasheet
Magnetic Mount for the 4910LR
The 4910LR DL Reader Magnetic Mount, offered at $29.50, is an add-on enhancement to use in place of the standard microphone clip mount included with the 4910LR DL barcode reader kit. The magnetic mount uses a self centering design which makes it quick to stick the 4910LR DL scanner to the mount. As soon as the scanner mount is close, the magnet engages the imaging scanner, holding it securely in place. Its just as easy and quick to release the 4910LR for use. The 4910LR magnetic mount uses an N52 grade Neodymium magnet. It is a high grade, small magnet with a lot of pwer. It has rare earth properties to withstand rugged environments like your patrol car.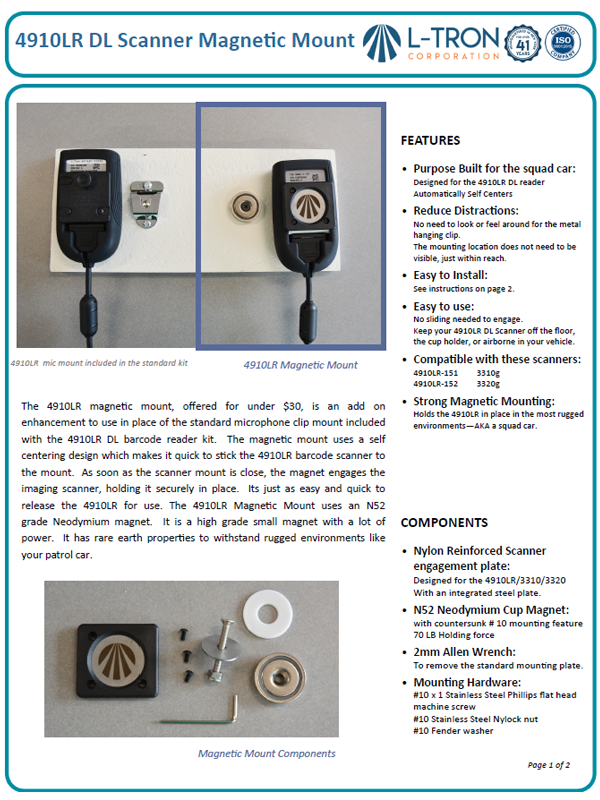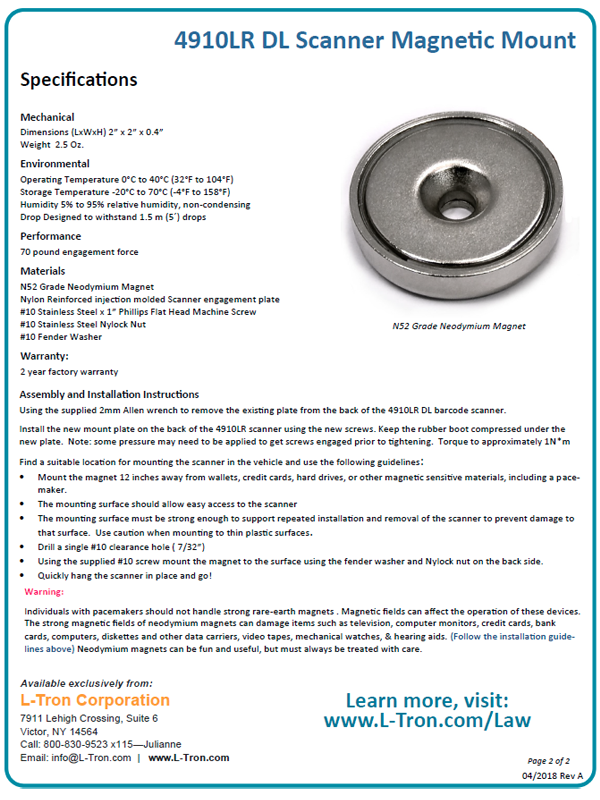 Click to view and print the full 4910LR Magnetic Mount Datasheet.
Questions?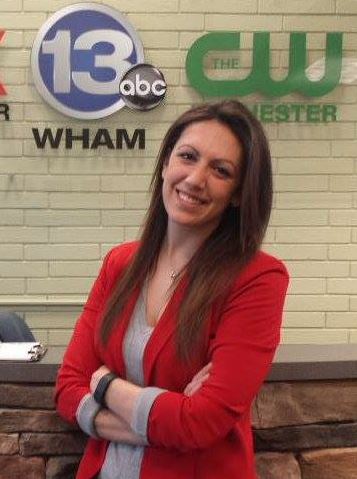 Call Julianne 800-830-9523 x115
Email info@L-Tron.com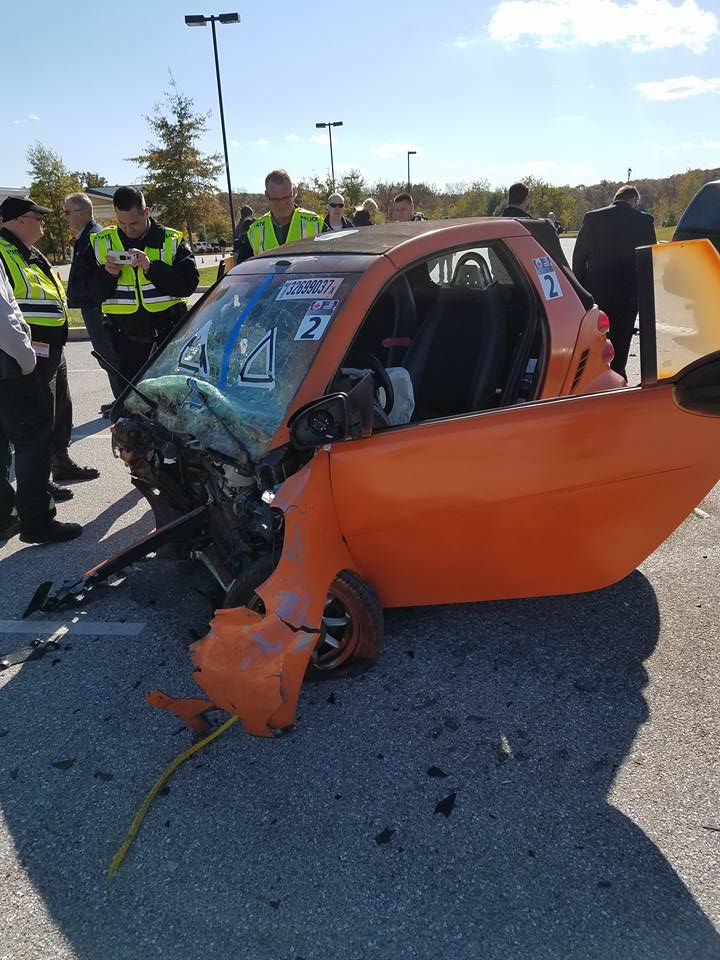 Key Components of a Comprehensive Crash Investigation
OSCR360 for Crash
OSCR360 for Crime
Overview of OSCR360 for Crash Reconstruction
[Video]: OSCR360 for Crash Reconstruction
Watch as Retired Sergeant & Expert Crash Reconstructionist Chuck Grasso explains how OSCR360 assists with crash investigations.
Learn:
How easy is OSCR360 to use?
How OSCR can assist with gaining search warrants
How OSCR allows investigators to clear the scene faster and open roads quicker
Crash Reconstruction is critical for victims, families, investigators and attorneys. You only have one opportunity to get the evidence collection right. OSCR360 allows viewers to see the whole crash scene through an investigator's eyes. Capture, preserve and present a more comprehensive and accurate representation of a crash scene and the environment it occurred in.
OSCR360 was built from the voice of Law Enforcement and Prosecuting Attorneys.
To learn more about OSCR360 for Crash Reconstruction, click here.
Questions?
Contact Juli at 800-830-9523 x115 or Email Julianne.Pangal@L-Tron.com
OSCR360 for Accident Reconstruction
[Video]: Revolutionize Crash Recon with OSCR360
Traffic Citations
Out with the Old, In with the New
When was the last time you wrote a note to someone using pen and paper? Our guess would be that it has been a while. Don't be mistaken, there is a place for it, not for traffic citations.
We are seeing more and more agencies moving away from handwritten ticketing and adopting electronic citation as their go to, and there are many reasons why.
Because officers have to stand on the side of the road and manually write down all of the details at the scene, pen and paper ticketing takes too much time, has a higher likelihood of errors, is not easily transferable, and can, in fact, put officers in harm's way. The justification for switching a department to electronic ticketing could not be more clear.
Let's dive into some specifics about handwritten and electronic citation methods in the figure below, with a side by side comparison of handwritten citations to eCitations.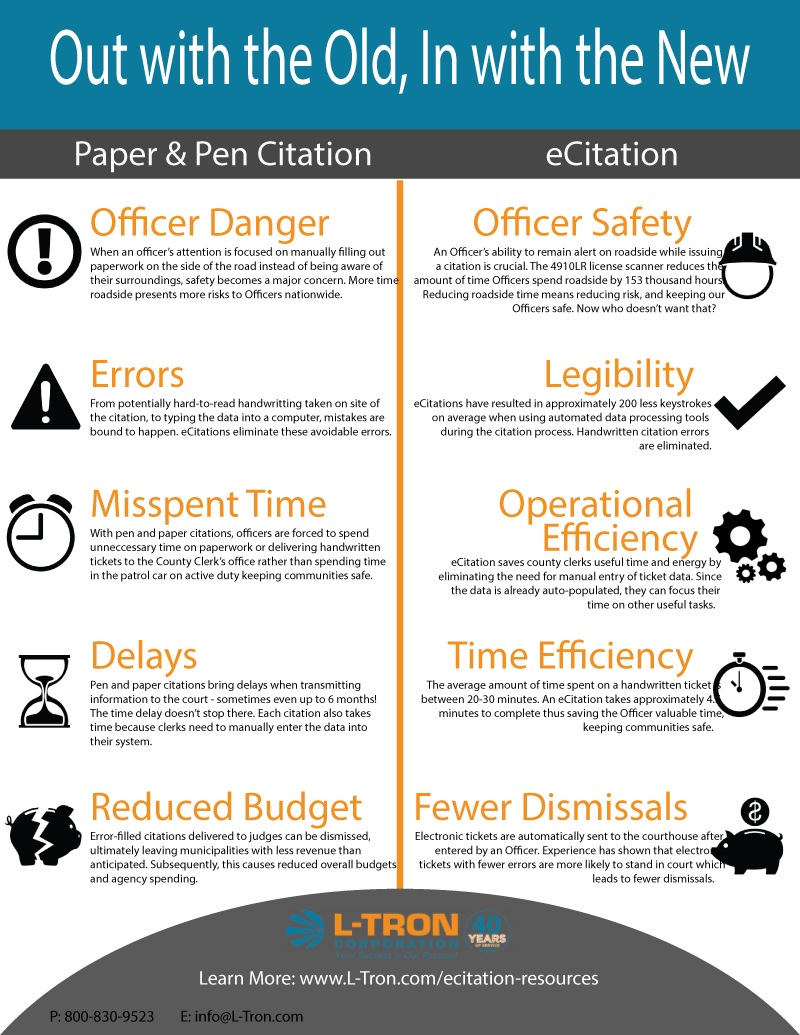 Click to view printer-friendly version.
eCitation saves time by automatically capturing motorist information with the scan of a driver's license barcode for an automated citation transfer process that officers use to enhance and streamline their policing time.
In addition to the information auto-populated. The 4910LR Driver's License Reader can also collect:
Gray-scale images including radar readings, driver's license photos, crash sketches and more
Here's How it Works:
Why Do I Need This?
Investing in electronic ticketing has clear benefits when directly compared pen and paper ticketing.
The Handwritten citation process is slow and labor intensive whereas e Citations streamline an agency's policing activity and increases operational efficiency.
We'd be happy to talk with you more about e-Citation equipment and work with you put your solution together to meet your unique needs.
Contact us today, or click here to learn more about eCitation and the 4910LR DL Reader.