"OSCR360 could have given us a huge advantage in how we organized and presented the 2009 Valentines Day Homicide case"

Retired Crime Scene Technician, Pete Butler, and Sergeant James Alexander of the Ontario County Sheriff's Department reflect back to a 2009 homicide investigation, in which a man executed two parents while their children hid in the home. They were the third and fourth victims Frank Garcia killed, in a rampage that began in Brockport, NY where he killed two people and wounded a third. Garcia was allegedly angry over losing two jobs as a result of accusations of sexual harassment.
The Ontario County Sheriff's Office did a comprehensive job of compiling the evidence and presenting their case, resulting in multiple convictions for the perpetrator, Frank Garcia. Given new technology and the challenges of today's investigators, Sergeant Alexander can't help but imagine how a solution like OSCR360 could have assisted his investigations team.

The Scene of the 2009 Valentines Day Homicide:
Valentine's Day, 2009. The Ontario County Sheriff's Office responds to a call at Middle Cheshire Rd. in Canandaigua, NY. At the scene, two people are found dead, shot from behind. Their murders were called in by the victims' 14-year-old daughter.
How could OSCR360 have assisted the Sheriff's Department?
1. No training needed
With OSCR, any investigator or technician can use the tablet to navigate the scene and capture images. Although we utilized a laser scanning system at Middle Cheshire Dr., if we had OSCR available, we would not have had to wait for specific technicians who were trained on the equipment to arrive at the scene.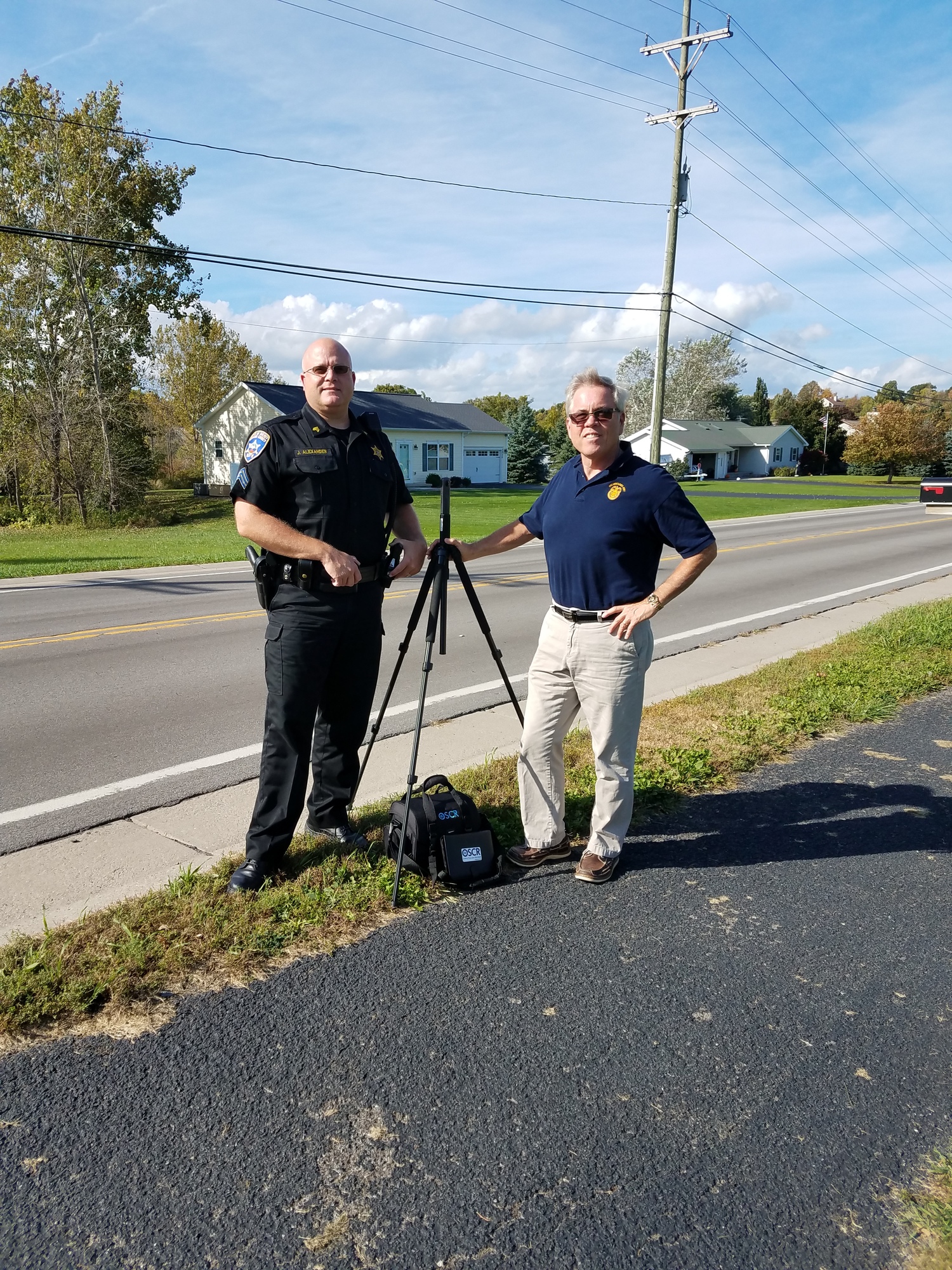 2. Clear the scene more quickly
One of the challenges with the Valentine's Day Homicide was the threat of inclement weather. A cold and blustery day in western NY means the imminent threat of snow, sleet or rain. With OSCR, Officers are able to get quick overall photos of both indoor and outdoor scenes. At Middle Cheshire Dr. we had several footprints and boot impressions on the driveway and leading into the house. There was one partial footprint on the welcome mat leading into the house. We also were able to get tire tracks from the driveway that matched the perpetrator's car. With OSCR, we could have captured overall images of this evidence quickly. This way, even if the weather didn't cooperate, we would have saved the overall images of this evidence and how it was discovered at the scene. Later, we could have attached our close-up DSLR photos and lab reports into the OSCR software to show to the jury.
3. Keep your scene  pristine
This was a homicide where the suspect had gone on a rampage and demonstrated, without question, complete disregard for life.  In the early hours of such a crime, there are two distinct operational missions: capture the perpetrator; document, preserve and collect evidence to bring him to justice. There are countless moving parts. This case covered two counties, multiple jurisdictions, dozens of law enforcement officers, many command people, and communities wondering where the killer might strike next.
THE obvious priority is always public safety – capturing the killer. Critical to that is an overview of the scenes which may contain evidence critical to trial and conviction, but possible cues and clues that might help in the apprehension of the suspect. Instant photographic capture and documentation of such things is paramount to both missions.
OSCR provides a solution to an often overlooked, but frequently discussed dynamic – the tendency for too many officials to enter a forensically-sensitive scene. This places evidence at risk physically and legally, and opens up a case to challenges at trial. By quickly capturing an entire crime scene photographically in 360 degrees, complete views can be brought outside for other personnel to review, leaving the scene secure.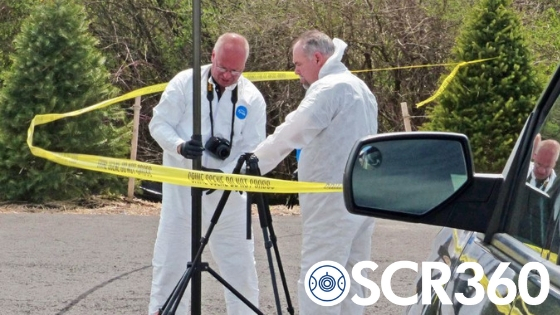 4. Organize your case – even when other departments are involved
Although Frank Garcia was ultimately tried separately for the murders that occurred in Rochester, OSCR would have helped to tie together information and evidence from Lakeside hospital, Middle Cheshire Dr. and the Tim Horton's coffee shop where Garcia was arrested. With the OSCR viewer, the other agencies  that worked with the Ontario County Sheriff could have viewed OSCR images and gotten an understanding of locations involved in the case, outside of their jurisdiction.
5. Simplify the post-scene process
After a killer is caught and crime scenes are released, our work isn't over. Plenty of investigative steps need to be completed.  Coordination with other elements of the legal system begin, like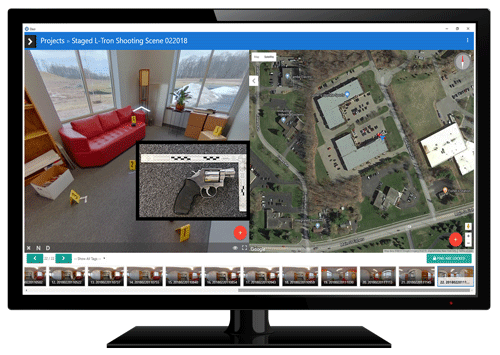 interaction with the prosecutor's office and the crime lab. You can have perfect evidence, but presenting it to people who analyze it scientifically, and prosecutors who will make your case in court can be a challenge. OSCR' presentation software visually ties multiple scenes and specific items of evidence together in such a way everyone can understand – from witnesses and investigators, to prosecutors and the public, to judges and juries.
"The memories of the 2009 Valentines Day homicide Garcia case are ingrained in my memory. I have processed approximately 150 homicide scenes including this case. This experience comes from my employment with the City of Rochester Police Department, Yates County Sheriff's Office and other departments for a combined total of over 35 years. I can think of no other instrument better able to portray those vivid crime scene images today, than if I had the OSCR360 back then."

– Deputy Pete Butler (Ret.), L-Tron Law Enforcement Support

OSCR360 is purpose built from you voice for Law Enforcement, Fire Departments, Environmental Safety agencies, Schools, Universities and more.
This year marks the 10th anniversary of the 2009 Valentines Day homicide. Hopefully, OSCR can help bring justice and closure to families like those who were affected on Middle Cheshire Rd.
Click here to learn more about OSCR360 and how the system is helping Officer's investigations.



Stay tuned to read about the role the Monroe County Sheriff's Office played in the 2009 Valentines Day homicide investigation, from the perspective of L-Tron's Director of Forensic Education Andy McNeill.

Questions? Contact Us


 Call 800-830-9523 x115

Email info@L-Tron.com